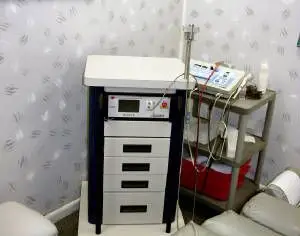 Making an Educated Decision about Your Quality of Life
Pain can affect every aspect of your life. In its early stages, it is common for people to ignore pain or discomfort. As the condition progresses, activities like walking, driving, and standing can become challenging and painful. If you suffer from pain or limited mobility, we encourage you to explore Class IV laser treatment options with your doctor to help get you back to the business of daily living.
Many conditions can lead to the need for treatment from a qualified physician, chiropractor, or physical therapist. There are many non-surgical options available for treatment. We hope that being informed of these options will lessen the fear or hesitation some may have in seeking treatment for any of these conditions.
Our recommendation is to seek the medical advice of Dr.Lombardi or a physician who, after a physical examination, can give you the appropriate advice about the management of your medical condition.
A recent review of over 2900 articles in the medical literature indicated that many acute and chronic conditions may be improved or eliminated through the use of laser therapy.
You may be a candidate for Class IV laser therapy if your doctor indicates you have any of the following conditions:
Arthritis
Achy / Stiff Joints
Neck & Back Injuries
Shoulder Pain
Tennis Elbow
Muscle & Ligament Tears
Knee & Hip Pain
Trigger Points & Muscle Spasms
Sprains/Strains
Carpal Tunnel Syndrome
Rotator Cuff Tear
Sciatica (Leg pain)
Pain & Healing Following Surgery
Herniated Discs
Foot/Ankle Arthritis
Plantar Fasciitis
Morton's Neuroma
Ankle Sprains
Achilles Tendinitis
Shin Splints
Poor Circulation
Stress Fractures
Bunion Pain
Diabetic Neuropathy
Arch Pain